via Barrie Interior Designers & Decorators Staples Design Group
Leather's natural beauty and durability have made it one of the most desired furniture coverings. Although technically not a fabric, perhaps no other upholstery bridges traditional and contemporary furniture design better than leather.
Leather comes in hundreds of colors, patterns and finishes that fit a range of styles, from clubby chairs to sleek modern sofas. If you're considering leather furniture, terms like aniline and full, top and corrected grain may make your head spin. So here's what to know:
via Jarlath Mellett
Top grain leather.
Top grain leather is made by splitting the underside away top (see split leather below) and sanding the top surface to mask imperfections. The sanding also removes the epidermis and upper dermis of the hide, so it won't breathe like full grain leather products. This is because they're heavily pigmented with finish applications to protect the surface and hide blemishes. Top grain leather creates a smooth, uniform finish, like on these chairs. However, it won't patina with age, like full-grain.
Top grain, while not as strong as full grain, is still quite durable. In fact, most leather furniture is made from top grain leather.
Some benefits of top grain leather include:
Uniform appearance, if this is desired
More malleable/bendable than full grain because it's slightly thinner
Easy to clean
Split grain leather.
Split grain leather is made by splitting the bottom layer away from the upper top grain layer. Thinner and less durable, split grain is usually used for shoes and handbags, not high quality furniture.
However, some manufacturers may put a split leather on the back and sides of a furniture piece and top-grain  on the cushions and back – still maintaining it's 'all-leather'. It's a sneaky tactic, so make sure you know exactly what you're buying. Nonetheless, if your budget doesn't allow for all top or full-grain, this is a way to still have an all-leather piece.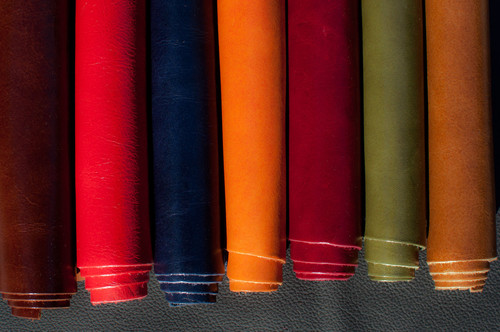 via
 Heather Lloyd – NV Manufactures
Corrected grain leather.

Corrected grain is a top grain leather with a light faux grain sometimes referred to as 'pebbling' embossed on its surface. Pebbling resembles goosebumps, and an example of it is seen here in the dark grey leather in the background. It enables rougher-looking hides to be turned into useful and beautiful product.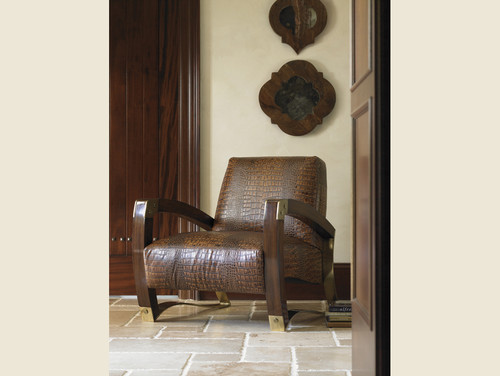 via Barbarossa Leather
Embossed leather.
Embossing is a type of corrected leather, but in its own category because it's specially imprinted with pronounced patterns. Crocodile is a popular pattern, but designs can range from exotic animals to florals to geometrics. Embossed products tends to cost more because it requires more tools and processing to create it. You'll also need extra material to accommodate pattern matching if you're having a piece reupholstered. However, the end result can be stunning, like this chair with leather provided by Barbarossa Leather.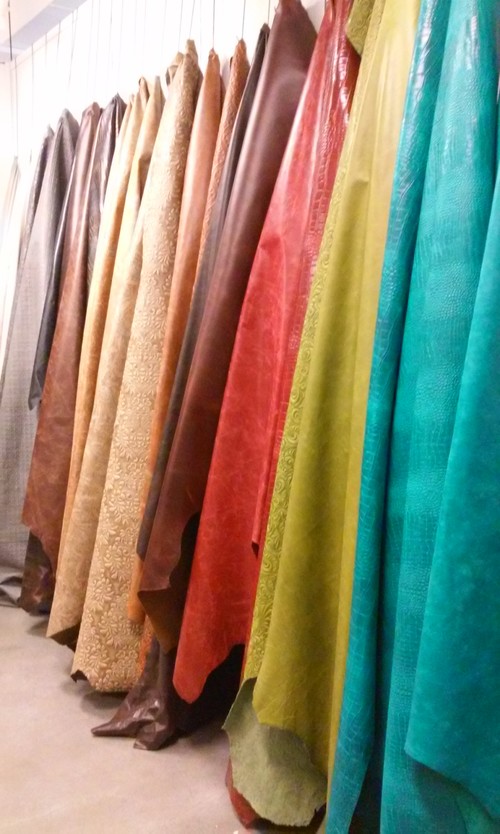 via Barbarossa Leather
Aniline dyed leather.
Analine, also called 'pure aniline' or 'full aniline' is a transparent dye made from coal tar that penetrates the entire thickness of the hide. Analine dyed leather does not have a protective coating nor any topical treatments to alter the natural feel of the hide, so the grain and any visible scars or pores are retained. Analine dye gives leather the softest, most luxuriously hand. However, because it is uncoated, it is susceptible to staining and fading. So, analine dyed leather is ideal for pieces with light to moderate use or if you're okay with staining that will likely occur with use.
via Avon Architects & Building Designers Reed Design Group
Semi-aniline dyed leather.
Semi-analine dye is actually a misnomer. It's not partially dyed. Rather, it's first analine dyed then additionally pigmented. Semi-aniline leather is produced through a very similar process to full-aniline, but is taken a few steps further. It has a thin protective top coat added to protect it from wear and staining. This coating may or may not be pigmented with additional color, and can be matte or with a sheen.
With semi-analine dyed leather, you can see some natural markings through the topcoat. It can still stain somewhat, but it is more protected than a pure aniline product and the color is more uniform. It's good for regularly used pieces. This red sofa is likely upholstered in a semi-analine dyed product.
via Convict Hill Floor Covering & Design, Inc.
Pull-up / distressed leather.
Pull-up is a type of semi-aniline leather with a waxy topcoat added for protection. When it's 'pulled' or stretched, the wax causes the dyes to spread, giving the hide a two-toned marbled effect. Pull-up leather is commonly referred to as "distressed" leather. The wax topcoat easily scratches, but these marks will often be absorbed back into the leather and soften over time.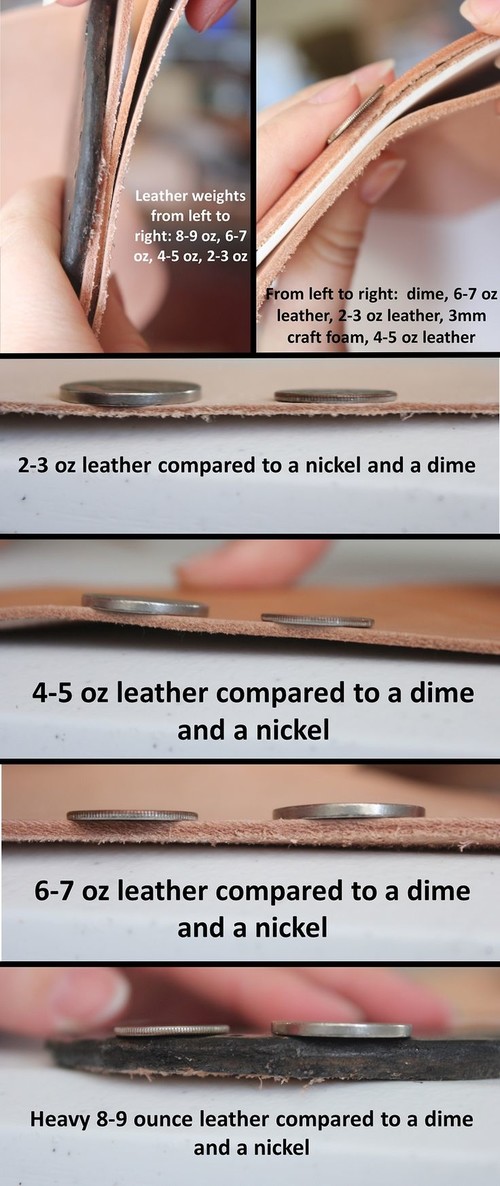 via Barbarossa Leather
Weight and thickness.
Leather weight is typically measured in ounces per square foot. In an effort to make leather in uniform thicknesses, hides are run through a splitting machine. However, there is always a slight thickness variation throughout the hide. As a benchmark, one ounce of leather equals 1/64th of an inch thickness. So, a weight of 4 to 5 ounces. means the leather is 4/64th to 5/64th of an inch in thickness. This is why leathers are usually shown with a range of thickness, such as 4 to 5 ounces per square foot.
For home decor purposes, most full grain hides vary from 4 to 5 ounces per square foot; most top grains are in the 2 to 3 ounce per square foot range.
Thickness and furniture style.
Don't think that thicker leather is necessarily better. Not every leather will accommodate every style of furniture. Many of the full grain hides are too thick to round corners and are better suited for simple geometric pieces with tight backs. Thick leather is stiffer also a longer time to 'break in'. For example, these rounded chairs are best complimented in a thinner, more supple that leather that can follow the contouring to create a well-tailored finished piece.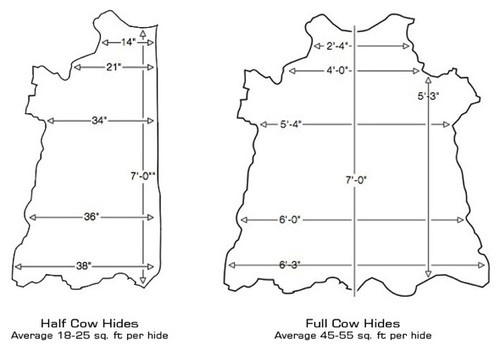 Hide yield.
You probably won't have to fuss over hides if you buy an already upholstered piece of furniture, but if you're recovering a piece and are selecting leather hides, you'll need to think about how much leather you need. Unlike fabric, hides are limited in size. David Spunda, sales director at Barabarossa Leather indicates the average cow hide yields 45 to 55 square feet. Sometimes half hides can be purchased, which offer between 18 and 25 square feet.
Also take into consideration the grain you're buying. Full grain hides typically have fewer defects, thus higher usable square footage and less waste compared to top grain hides. Full grain leathers typically use 80% of the hide while top grains utilize only about 60% of the hide.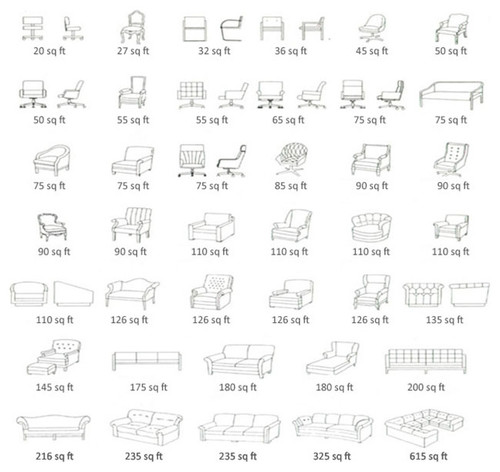 via Barbarossa Leather
The number of square feet of leather required for common furniture pieces are shown here. The average arm chair needs between 90 and 100 square feet. Sofas require between 235 and 325 square feet.
via Atherton Interior Designers & Decorators Fannie Allen Design
Cost.
While leather prices can vary, expect to pay between $8 and $12 per square foot for top grain leather. A general range for full grain leather is $13 to $21 per square foot.
Spunda mentions that embossed leathers cost more because of the extra processing necessary to produce the patterning. Specialized leathers, like weaves,  also cost more.
via Oak Park Interior Designers & Decorators, Kelly Cleveland Interiors
Maintenance.
Preventative measures will help your leather furniture last a long time. Here are a few:
Keep it out of direct sun, as UV rays will cause fading.
Keep indoor humidity levels as stable as possible. Remember that leather is a skin and low humidity can be especially damaging, causing cracking.
Be careful to not accidentally overspray other cleaning agents like dust spray.
Keep it furniture clean by brushing off loose debris. For cleaning spills, use a clean fabric cloth dampened with clean, distilled water.
Do not use wax, polish, saddle soaps, or oil leather cleaners unless specifically directed by the manufacturer because they might remove the finish and / or discolor the leather. If you do use leather conditioning products, be sure they're advertised as "neutral".